Meadowbrooks Champions and others that we have Championed.
AKC Ch Meadowbrook's Bringin Down T' House (Hustler) Ofaca,Ofag, Cert
Hustler was Ranked #13 Amstaff in the country and #17in all breed in 2007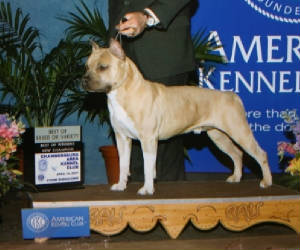 AKC Meadowbrook's Baby Blue (Sybil)OFAca, OFAf, Cert
Sybil Finished her Ch with very limited showing. Sybil was the First Meadowbrook Champion.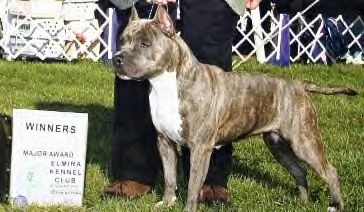 AKC CH Meadowbrook's Western Sky OFAca, OFAg, Ataxia CLEAR
Westley finished with very limited showing. He took the Richmond Va Specialty and the Atlanta Ga Specialty Show.
I want to Thank Nick and Jennie of Cicero Kennel for handling Westley and showing him to a Championship.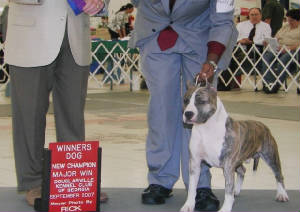 AKC CH Meadowbrook's Off Road OFAca, OFAp,OFAg, OFAelb, Cerf, TT, Ataxia CLEAR
Flippy finished his championship with limited Showing. 5x Best of Breed Winner.
Thanks Kristine and Billy of Shadyblue Amstaffs for all the work you have done with the Flipster and everyone else that worked with Flippy and helping with his Championship.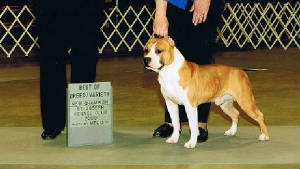 Danish and Swedish Ch AKC Meadowbrooks Hustler TT,HD-A-A ED-00 Ataxia CLEAR
Multiple Best Junior in Show(Denmark)
Rated Excellent at the World Dog Show
4th Junior Male at Danish Specialty.
8-17-08 Hedensted Terrier Specialty, DenmarkOpen Male, 1 Excellent, CAC, New Danish Champion!!!
#1 Danish Progeny Group 2008 (still holding this spot strong)